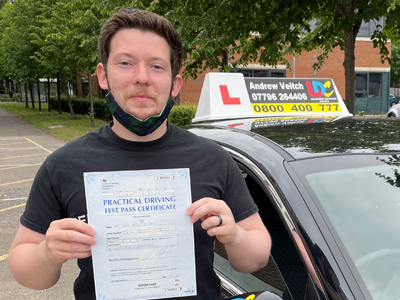 Dean Jamieson
First Time Pass
Simply the best instructor i could have asked for! From the first moment i sat in the car, the whole thing felt so relaxed. Patience of a saint. Andrew helped me achieve the best result i could have asked for. Passed first time and with no faults!! Cannot thank him enough.
Beth Robertson
I learnt with Andrew between september 2017 and June 2018. I passed first time which i didn't expect but was so pleased when i did.
Andrew is very patient and understanding. He teaches everything in an easy to understand way making even the most complicated things seem as simple as possible and if i ever didnt understand anything he was more than happy to go over it again until i did.
I wasnt the most confident driver and most often did things again and again even though he had already explained the way is should do it but he never got annoyed he would just explain it again.
Even now i have passed i still find myself saying remember what Andrew told you to do.
After passing in June 2018 i contacted Andrew not long after to ask if he would do pass plus with me which he was happy to do. He worked around times that suited me due to working hours even though it meant going out at night. I had some things i was still unsure on doing such as parking and he was happy to go over this again with me even though it isnt included on pass plus.
Overall i was very satisfied with all of my lessons and would deffinetly reccomend Andrew. I have already reccomended him to my sister for when she is ready to learn. Would also reccomend people do the pass plus course with him as it helped me to boost my confidence.
The LD system is also great as it helped being able to look at the workbook before going on lessons and also after to recap everything.
Thanks again Andrew